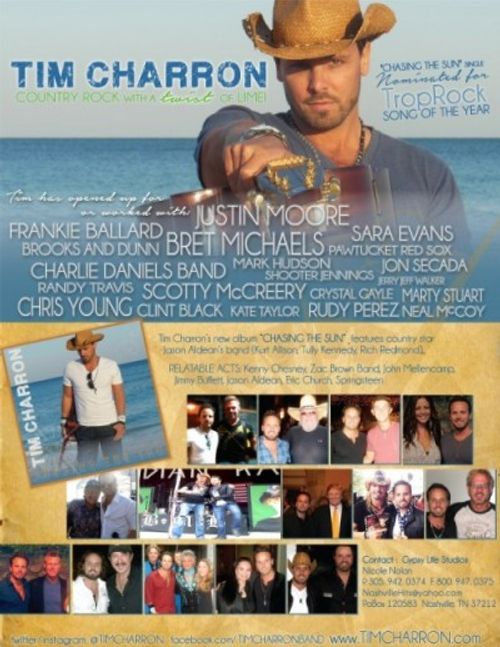 Tim Charron is a country rock recording artist that currently divides his time between Nashville and Florida.
Charron currently has three albums out, the latest , Chasing The Sun, was recorded with
country mega star Jason Aldean's band.  
It contains a sound that is described as,
"Country Rock with a twist of Lime".
If you asked Tim to name some of his greatest influences he would cite musical greats like John Mellencamp, Bruce Springsteen, Kenny Chesney, Eric Church and Nirvana. However, one of the greatest influences on his life (and in his music) has come from Mother Nature herself, the beach.
"Growing up in Rhode Island was great," Tim said. "Half of the time we were in the city, and the other half we were in the sticks. We were always summering at Matunuck Beach in Rhode Island and that's where I developed my fascination with the beach/ocean lifestyle."
This lifestyle has permeated itself into the singer's sound propelling him to career that has led to sharing the stage with Bret Michaels (Poison), Willie Nelson, the Charlie Daniels Band, Clint Black, Sara Evans, Dustin Lynch, Rodney Atkins, Darryl Worley, Randy Travis and many other artists who have reached the peak of the musical mountain. 
"I picked up a guitar when I was fourteen and never decided to put it down," remarks Tim. "I ended up starting a band with my step-brother and few friends from high school. We would always have rehearsals in our basement."
It didn't take the New England native long to spread his musical wings as the talented songsmith secured his first major gig when he was only a teen.
"At sixteen we had our first 'big' concert with a huge crowd, big stage/sound system, light show, the works," recalls Tim. "I will always remember running out from backstage after our intro music (2001: A Space Odyssey, which was made more famous by Elvis Presley) into the spotlight. The adrenaline rush was like nothing else in the world!"
The shoreline six-stringer still brings his theme song and zest for the stage to his live shows today. While promoting his album Chasing The Sun, which features country mega star Jason Aldean's band, Tim has become a champion and warrior of the road, taking his 'Trop Rock' sound up and down the East Coast, to the West Coast (opening up for Frankie Ballard and Justin Moore in California) and even Internationally with stops in the Bahamas, Virgin Islands, Costa Rica and Germany. The Nashville resident will be teaming up with Jason Aldean's band again for his next album and will also be working with #1 hit songwriters Clay Mills ("Don't Think I Don't Think About It" – Darius Rucker, "Beautiful Mess" – Diamond Rio, "Fall" – Kimberley Locke) and Marty Dodson ("Must Be Doin' Somethin' Right" – Billy Currington, "Everybody Wants To Go To Heaven" – Kenny Chesney, "Let Me Down Easy" – Billy Currington) to write the songs for the album (along with writers from Clay and Marty's songwriter coaching forum, SongTown).
"I am on fire to entertain people. Nothing makes me happier than whipping a crowd into a singing, stomping, screaming frenzy! For me, it's the ultimate high."
When he's not entertaining massive crowds, or recording songs that make you want to dance and sing, Tim can be found connecting with one of his first true loves, Mother Nature. Splitting his time between Nashville, TN (where he's been for seven years) and Florida, this performer has plenty of opportunities to discover new outdoor adventures, travel and enjoy sports such as beach volleyball and basketball. Tim never passes up an opportunity to get out on the water either, citing paddle boarding, jet-skiing and boating/sailing as some of his favorite pastimes. 
With a fire for performing, and a sound that makes you want to move while giving you the feeling of complete euphoria, it's clear to see why fans are flocking to Tim Charron… a country rocker in a prime position to continue serving up greatness for many years to come.
VIP Fan Club/ Patreon. Join now
FREE song ! "Chasing the Sun"